Hours Of Operation
| | |
| --- | --- |
| Monday | 8:30 am - 5:00 pm |
| Tuesday | 8:30 am - 5:00 pm |
| Wednesday | 8:30 am - 5:00 pm |
| Thursday | 8:30 am - 5:00 pm |
| Friday | 8:30 am - 5:00 pm |
| Saturday | 10:00 am - 2:00 pm |
| Sunday | Closed |
---
Server Administration
---
At Canada Business Services, we sell and maintain all makes, models and sizes of servers and there network. 
The Server Administrator's role is to design, install, administer, and optimize company servers and related components to achieve high performance of the various business functions supported by the servers as necessary. This includes ensuring the availability of client/server applications, configuring all new implementations, and developing processes and procedures for ongoing management of the server environment. Where applicable, the Server Administrator will assist in overseeing the physical security, integrity, and safety of the data centre/server farm.
Wanting to share resources across your home or office network? Need to upgrade your company network and systems? Let us design high performance, up to date networks that meet and exceed today's standards to maximize performance and efficiency, preparing you for the future! Call for your free quote today!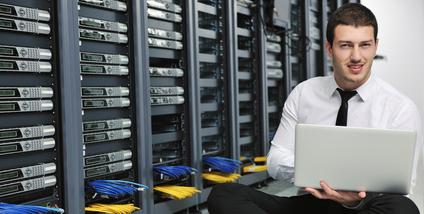 ---
File Servers
By having a file server, you can centralize all of your data on a single computer or server. This server will be setup to automatically make back-ups of your data to ensure that none of your important information is lost.
This server can store all of your documents, accounting database, files, and more so that all users in your business can access and edit them when needed. You can also have all of your computer workstations save all of their data to a central data server, so that you don't have to back up each computer individually.
---
Microsoft Exchange
Access e-mail anywhere, automatically sync all your devices, and share your calendars for appointments.
Easily access Microsoft Outlook email anywhere including all of your folders, calendars, and emails from any computer where ever you are.  Your email will sync automatically with Blackberry, iPhone, or Android using Microsoft Exchange.  This means you will be able to get your email where ever you are and on your desktop, laptop, tablet or phone.  This also will allow you to sync your calendars and share your calendars in your office, so your clients can book appointments with you or through your staff at any time.
---
Server Virtualization
This is where you have an all in one system that provides your company with one server that will take your existing domain controller, file server, exchange server application server and terminal server and combine them all in to one.
This allows you to save money, time, space and resources by having one server that would normally take up the space of many.  You can also allocate resources like processing power, amount of ram and hard drive space for each of your virtual servers depending on their needs all from the same computer.
---
Virtual Private Networks (VPNs)
VPN's use advanced encryption and tunneling to allow organizations to establish secure, point to point, private network connections over the Internet.  This allows you to access your computers and files from anywhere to get your job done efficiently.
---
Virus & Spyware Protection
Protect your business from unwanted intruders & viruses. Most business's rely on their connection to the Internet these days to do business. It is important that you have proper protection on your server so that your important information does not get compromised. Today's firewalls and antivirus software provide all this and more.
---
Contact us today for more information on how we can help your business with all your server administration needs.
---